Kevin Nolan, President & CEO GE Appliances,14.10

Special Keynote Speaker: Kevin Nolan, CEO, GE Appliances
When: 14 October 6 PM, streaming on Zoom from Executive Center, USI
Kevin Nolan, President & Chief Executive Officer of GE Appliances, a Haier company, headquartered in Louisville, Kentucky
GE Appliances, a Haier company.
Since 1907, GE Appliances has built innovative, quality products that are trusted in half of all U.S. homes. They sell appliances under the Monogram®, Café™, GE Profile™, GE®, Haier and Hotpoint brands. Their products include refrigerators, freezers, cooking products, dishwashers, washers, dryers, air conditioners, small appliances, water filtration systems and water heaters (2021).
HISTORY OF INNOVATION OF GE APPLIANCES
GE Appliances transforms imagination into exceptional products.
In 2020, for instance, GE Appliances wins Smart Appliance Company of the Year for the second year in a row in IoT Breakthrough Awards Program, and introduces the Next Gen Kitchen Hub Micro at the Consumer Electronics Show in Las Vegas.
For more info, visit the website: https://geappliancesco.com/innovation-history/
Kevin Nolan
Kevin Nolan is the President & Chief Executive Officer of GE Appliances, a Haier company, headquartered in Louisville, Kentucky. GE Appliances is the fastest growing appliances company in the U.S.
Mr. Nolan is a seasoned engineer and a passionate maker with 29 patent awards and a 30-year career at GE, including 10 years as GE Appliances' Chief Technology Officer.
He took innovation to a new level when he conceived and co-founded FirstBuild, the first Corporate maker's space in the world and global co-creation community that harnesses the power of the maker movement to change the way home appliances are conceived, designed and manufactured.
Originally from Connecticut, Mr. Nolan is an active voice in Louisville, KY, working directly and through several organizations to attract new investements to the area; promoting STEAM (Science, Technology, Engineering, Arts and Math) programs in schools and community centers; mobilizing resources to close the digital and educational gap in the city and personally participating in several community development organizations, including Metro United Way.
Currently as CEO of GE Appliances, Mr. Nolan is successfully leading the company's transformation, redefining structures, promoting a new culture and shaping the future of an organization founded more than 100 years ago.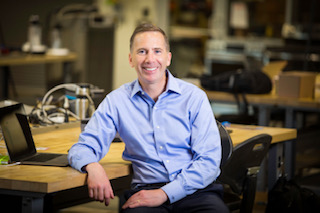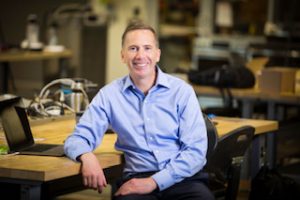 To participate, email us: emba@usi.ch