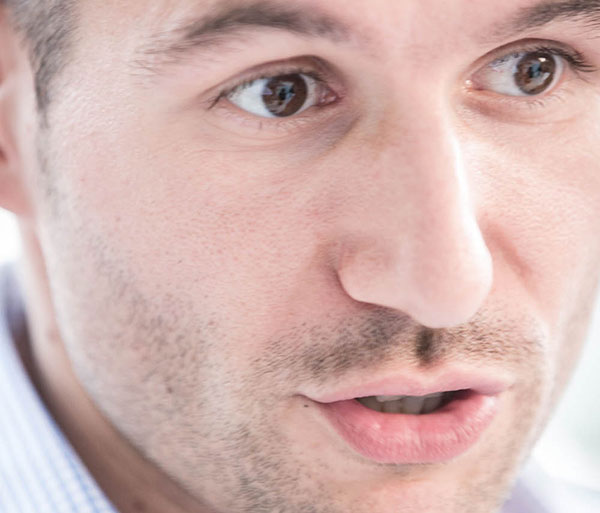 Slaven, tell us about your experience as a professional basket player…
Playing professional basketball was an exceptional experience for me, especially because I was able to compete for teams that were very ambitious, well organized and looking to win a championship every year. It is very important for a professional athlete to be a part of something big and important, and I thought that with my experiences with Boncourt, where we won two Swiss championships and played in the European Cup, and also with Vacallo, where we won two consecutive Swiss Cups and one Swiss championship, I was a part of two great cycles that will be remembered forever in Swiss basketball. Those were great accomplishments that I am very proud of.
How did your experience as professional basket player influence your personal and professional life?
I always said that my experience as a professional athlete had a great influence on me as a private, as well as a business person. Discipline, mental toughness, performance under pressure, teamwork, resistance and most importantly leadership skills are only some of the characteristics that simply became a part of my DNA during all of my years as an athlete. From my countless repetitions on the basketball court at 5 am in the morning, to grueling team practices after tough losses, countless video analysis sessions, it simply teaches you to adapt to various situations of extreme pressure and stress which you are then expected to perform at a very high level under those circumstances. I always had the drive to practice rigorously even in the midst of failure until I finally succeeded. Athletes in general are tenacious-they seldom or never give up and they also have a strong work ethic and the ability to respect and deal with the inevitable issues of temporary pain. I used to spend countless hours practicing, looking for ways to gain the advantage over my opponents, and as it is the case with most athletes, I was never satisfied. I always thought that I could do better and I always looked for ways to get ahead somehow or in some way, to become a better player. As I got older, the physical strength started to give out and after several surgeries, I had to learn how to work smarter, not necessarily harder. I quickly learned how to become more effective and how to become more efficient. Someone said that the best athletes are not necessarily discovered, they are trained!
What about the USI EMBA, how did it contribute to your professional career?
EMBA was probably the most important step in my professional business career and it was directly linked to my basketball career. Although I always felt that I was well prepared at my previous position as a financial controller, I have to admit that I was not satisfied, which defines the way I function as a person. I am constantly looking for ways to get ahead, to become better, to give myself the best possible chance to succeed. The attitude was very familiar for me as it was something that I developed over the years as a professional athlete. I had to find ways to challenge myself to learn new things and gain knowledge in a variety of business areas which will broaden my career possibilities and give me confidence for the new chapter of my professional career — the business executive. The EMBA did more than just that. It was a perfect program for me, since it delivered the relevant knowledge and skills, valuable connections and most importantly prestigious credentials to accelerate my career.
With the partial scholarship from the Associazione Talento nella vita, the association made the EMBA program possible for me which is something I will always be grateful for. Not only was I able to complete the program, but I am able to show the path and serve as an example for many future young athletes that are taking part in the Associazione Talento nella Vita, which makes me very proud.
I would also like to take this opportunity to thank Mr. Umberto Giovine for making me the first testimonial of the association and selecting me as a candidate for the EMBA program.