Nicola Caronzolo, Sintetica SA, Corporate CEO ,18.11
"My Path with Sintetica"
Special Keynote Speaker: Nicola Caronzolo, Corporate CEO, Sintetica SA
When: 18 November 5.45 PM
Where: Executive Center, USI
Nicola Caronzolo, Corporate CEO of Sintetica SA, headquartered in Mendrisio, Switzerland.
SINTETICA SA.
Established in 1921 and headquartered in Mendrisio, Sintetica is a Swiss pharmaceutical company delivering injectable medicines to patients worldwide, through innovative science and excellence in development, production and marketing.
Sintetica has developed a clear innovation strategy following patient needs and new sustainable pharma trends.
For more info, visit the website: https://sintetica.com/
Nicola Caronzolo.
I deeply love this company for which I have worked for 20 years with passion, energy and dedication. I love its nature, its history, the magical mix that we have been able to build, all together, between great professionalism in doing and deep respect in living.
After earning a Bachelor's degree in Industrial Chemistry at the University of Milan, Nicola Caronzolo specialised in Polymer Science at the Giulio Natta School in Milan. A dual-national, Italian and Swiss, Nicola Caronzolo lives with his family in Lugano, Canton Ticino. After his studies, Mr. Caronzolo worked as an academic researcher at the University of Milan and afterwards for a company that manufactured polymeric support drugs. He joined Sintetica in 2002, when the company was beginning its progressive path of major expansion. He had an extensive career in the Industrial Affairs division and, after several years as Chief Operating Officer, he was appointed CEO of the company in February 2022. In his new role as CEO, Nicola Caronzolo intends to work to consolidate the major strategic directions of marketing Sintetica's products in the most important global markets.
At the same time, he is committed to further strengthening the innovation sector, one of the hallmarks of this pharmaceutical company known for the quality of its products and its ability to innovate therapies by customising the answers to questions from professionals. What he finds fascinating is that such a growing company faces many challenges. Those challenges are determined by the company itself, and everyone works together to overcome them.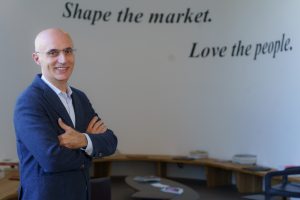 Book your place: emba@usi.ch