China and Europe: environmental and economic challenge
2nd generation cellulosic bio-fuels
When: 29 June, 6 PM
Where: Executive Center, USI
Guest Speaker: Dr. Marco Romani
Content:
The speech will be about a program that involves China and the initiative 16+1 countries.
The 16+1 format is an initiative by the People's Republic of China aimed at intensifying and expanding cooperation with 11 EU Member States and 5 Balkan countries (Albania, Bosnia and Herzegovina, Bulgaria, Croatia, the Czech Republic, Estonia, Hungary, Latvia, Lithuania, Macedonia, Montenegro, Poland, Romania, Serbia, Slovakia, Slovenia) in the fields of investments, transport, finance, science, education, and culture.
Dr. Marco ROMANI is Senior Advisor in Industrial Complex Development and Business Originator/Facilitator.
Dr. Romani possess professional experience covering design and calculation of process plant up to Contract development assistance & risk evaluation, Negotiations support, Claims analysis and Dispute resolution in uncomfortable law environment like as Middle East, Russian and Balkan Peninsula. Appointed as External Executive Director for Strategic Business Implementation, he is in charge to support the innovation and diversification in business processes and related infrastructure support network.
He is currently Advisor for world-class Oil & GAS and EPC Company.
Dr. Romani has also been strongly experienced into "Private Commercial diplomacy" assisting many Ambassadors based in Rome (Italy) during their mandate. Such specialized new type of diplomacy plays a significant role in global trade, investments and R&D activities.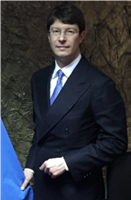 For reservations: emba@usi.ch